How it Works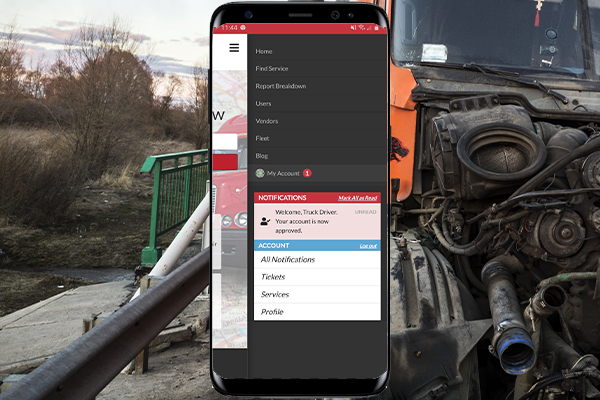 1. Get Alerted
You receive a service alert of a commercial truck driver in need of emergency services.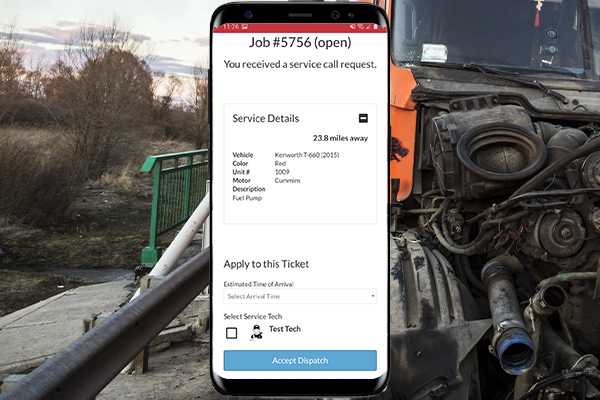 2. Review and Connect
Review the ticket and submit your rates, quote, ETA & service tech for the driver to review.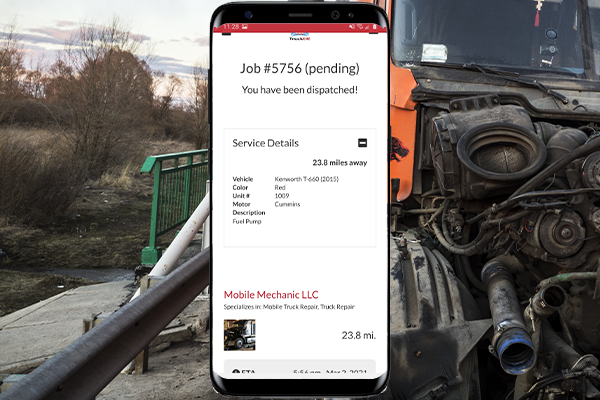 3. Dispatch
A service order is generated upon dispatch, with complete detail, instant chat and service updates.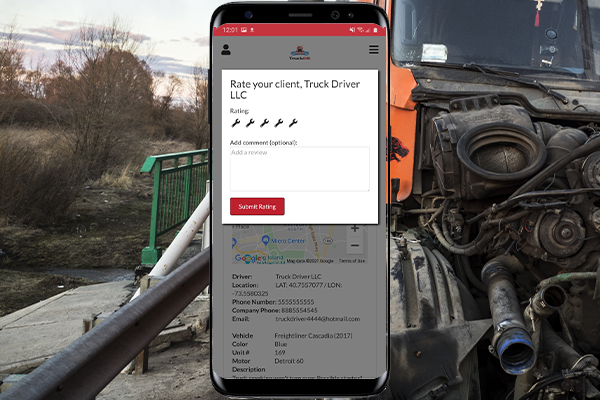 4. Services Rendered
Complete service, collect payment from the driver direct, mark the ticket close & review your experience.
Why should you register for TruckER?
Instant Leads
from Verified Drivers

Real time service alerts from verified drivers inneed of emergency service in your area.
Smart Placement Determined by Distance.
Unlike most directory services, TruckER does not allow priority placement based off of budget. TruckER boasts intelligent placement, placing outfits closest to the breakdown location first.
Direct & Preferred Payment
Settle your invoice directly with the driver or his company in your preferred method. TruckER does not act as a middleman when it comes to your money.
How TruckER Compares to Others
TruckER
TruckDown
NTTS Breakdown
Find Truck Service
Annual Price
$500
$660
$1799
$500

Features

Real Time Instant Leads via App, SMS or E-mail
Advanced GPS Technology Ensures Drivers in your Service Area
SMS Integration to Easily Connect to your On-Call Technicians
Accept or Reject Service Tickets with a Click of a Button
Custom Company Profile in National Directory that Builds SEO & Online Presence
Account Portal with Access to Current & Previous Service Tickets
Mark Tickets Completed & Upload Photos & Invoices
Direct Communication between Vendors and Users
Verified User Profiles Ensure Real Drivers & No Brokers
Available on iOS, Android & the World Wide Web
Register and Save
Register for TruckER now and get your first year for $300! See just how TruckER can add value to your business!
If you register now, you can get a full year's membership for only
$500 $300 / year
Do I have to pay now?

No, you are more then welcome to create a free vendor profile to have your company information added to our database. In order to use the advanced features of TruckER, you must pay the annual fee. In order to receive the early registration annual price, you must register before our launch. (Launch is sometime late 2019).
What will happen after registration?

After the registration you'll be logged in to your fresh account, where you can add your service to our database. You can choose between our free and premium listings (direct leads to your e-mail, text, or app is only enabled in premium).

Why is TruckER the right fit for my company?

Every day millions of people use smart phones, tablets & computers to access information on the world wide web. Truck drivers and fleet managers use the web to find reputable service companies when they are in need of all types of service. It is easy to get lost in translation with so much out there. TruckER gives them fast, real time & accurate data on service vendors nearby with the option to instantly connect with you. Bringing you more business in less time.
How much does TruckER cost?

TruckER is priced at $500.00 a year and $50.00 a dispatch. The annual fee ensures you are equipped with all the advanced features and technology of TruckER and not just a listing on some directory. Every time you accept a dispatch, $50.00 will be billed to your card on file and the service ticket opens.
Does TruckER affect my rates? Can I charge the customer the $50.00 dispatch?

Your rates are your rates. We do not take a penny out of them. Your rates are listed on your company profile for the customer to see in real time. You are more than welcome to add a $50.00 convenience fee to your invoice. That is your choice to make.
Can TruckER charge the customer the dispatch fee?

We do not charge the customer a dispatch fee. The service vendor must leave a card on file in order to continue to utilize the TruckER service. You are more than welcome to add a convenience fee to your invoice, but the $50 dispatch is between service vendor & TruckER.
Is it secure to keep my card on file with TruckER?

Yes! We do not have access to your credit card information. Your card information is kept safe and secure through our merchant processor Stripe. Your security is a top priority for us here at TruckER.
A customer has disputed a transaction. Do you guys offer any help?

TruckER keeps accurate & logged information in its server. You will have access to previous and current service tickets. If a customer has disputed a transaction, you will have all the information you need to submit to your merchant service provider to present as evidence. Furthermore, TruckER allows you to upload invoices directly into the service ticket when it is marked closed, leaving no room for question by the user.
Are these real users?

100% real and authentic users. TruckER verifies all user profiles and establishes validity before a user account can utilize the many wonderful features TruckER has to offer. This guarantees you all leads coming in are by real and genuine drivers in need of service then and there!
How are leads sent to my company?

Leads are sent via in App, E-mail or SMS. Furthermore, TruckER gives you the ability to add your technicians cell phones into your profile and enable and disable when need be. That way the leads are routed to the correct on call technician.
Does TruckER require any documentation?

In order to assure we are partnered with legitimate and reputable companies, TruckER does require you keep a copy of your insurance & any and all licenses up to date within your company profile. TruckER users do not have access to this documentation.
What happens if I refuse to pay the $50.00 dispatch?

Failure to pay the $50.00 dispatch will result in a lost ticket. In order to proceed with the job, the $50.00 dispatch must be paid and if not the service request will stay open for other vendors within the same service area to compete on.
What methods of payment does TruckER accept?

We accept all major credit/debit cards. Visa, MasterCard, American Express & Discover.
Does my payment come from TruckER or the customer?

Your payment comes directly from the customer. We do not act as a middle man when it comes to accepting payment for a job completed. That is your money for the service you provided.
What value does TruckER add to my business?

Not only does TruckER bring you instant, real time leads from truck drivers in need of service within your service area. TruckER also gives you an internet presence and helps your company build SEO. We also provide social media presence with shout outs on our social media platforms (Facebook, Instagram & Twitter). We also have several methods of PR such as radio, magazine, internet & television ads for maximum exposure.
---
Register Now